In the last few years, major cities across the country have increased the reorganization of outdoor advertising, include LED display. A large number of outdoor LED screens have become victims of environmental protection in a wave of rectification actions due to problems such as light pollution and illegal installation.
However, the transparent LED display based on the glass curtain wall has ushered in the development opportunity in the process of gradually cleaning up the outdoor LED large screen.
Among them, SHENZHEN RADIANT TECHNOLOGY CO., LTD is to seize the opportunity of transparent LED display development and become one of the fast-growing LED display company.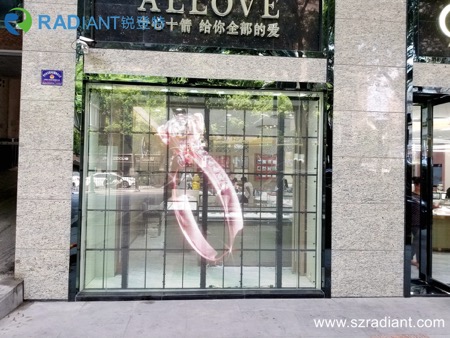 Entering RADIANTLED, we can feel the rigorous work style and passionate spirit of struggle. RADIANTLED has been engaged in the research and development of transparent LED display for more than 5 years. It has a comprehensive and in-depth understanding of transparent LED display and their markets. Frank said, the sales manager of RADIANTLED, there were only a few transparent LED display manufactured before five or six years ago, and now there are more than 50 in Shenzhen. The development of transparent LED display is very fast, the market scale continues to increase, and new companies are becoming more and more. In the next two or three years, a transparent LED display listed company may appear in the industry, and its scale will not be smaller to the listed companies in the current LED display industry.
The transparent LED display that is regarded by the vast majority of people in the industry as a minority market can really create a strong listed company? Is this "language not astonishing die endlessly"? Or based on the development of the status quo of the transparent LED display, the inference made naturally? We need time to verify. In Frank's view, the transparent LED screen entry barrier is very low, the basic technical application is based on the conventional LED display, the transparent LED screen just made some application changes. As a subdivision of LED display, transparent LED display basically have no technical problems.
Obviously, as a subdivision of the LED display, the transparent LED screen still has different characteristics from the conventional LED display. Its biggest feature is the high light transmittance compared with the traditional LED display. We thought the transparent LED display is improved from traditional LED curtain display. But, Frank said that the concept of transparent screen LED was originally proposed by Koreans, but it was the first time that Chinese LED display companies realized it and began to be widely used in various fields. Transparent LED screen and curtain LED screen actually have little relationship. In the process, the current transparent screen mainly has three manifestations, namely, the side sticker direct-lit LED panel, the SMT edge-lit LED panel, and the positive stickers direct-lit LED panel. These three kinds of patching methods have their own strengths and limitations.
RADIANT transparent LED display use side sticker and direct-lit LED panel, the advantage is high brightness and high light transmittance and has higher impact resistance than edge-lit LED panel, the most important, it can be customized and adaptable to the environment. We know that transparent screens are now widely used in various storefront window advertisements (chain stores), airports, stations, shopping malls, museums, exhibitions, financial institutions, stage and architectural glass curtain walls, and RADIANT products include various standards Pixel pitch, as small as 2.9 mm, as large as 10.4mm. At the same time, we can customize various pixel pitch products of 2.9mm or more according to customer requirements, and the brightness of the products can be adjusted from 3500nits to 6000nits according to different project scenarios. The transparent LED display light transmittance of RADIANT is more than 5% than the products of the same specifications, and the stability has obvious technical advantages. The stability of our RADIANT products has been recognized by our customers and can withstand the test of the market and has established a good reputation in the industry.
RADIANTLED pursues the ultimate on "thin", "light", "parsimonious" and "stable" in transparent LED screen. For this reason, RADIANTLED has been constantly striving to innovate and optimize products, such as "hidden the line is connected" in product design. According to Frank, RADIANTLED will introduce this new product with hidden line connection technology.
Nowadays, horizontal competition has been more fierce than ever, so many companies put emphasis on innovation. However, in the field of transparent LED display, Eric emphasizes that experience turns out to be exceptionally vital since there is no significant technical problem. And RADIANTLED possesses an experienced team on transparent LED display, among which employees with more than 5 years' work experience are no fewer than 10.
It may be no other than this experienced team that gives rise to the quick development and public praise on products' stability of RADIANTLED. Also, thanks to its abundant experience, RADIANTLED is able to respond to the market as quickly as possible and our production lead time is able to be far and away shorter than our peers.
According to Frank, RADIANTLED, this experienced team, is the most valuable deck in our company, since the Transparent LED display will surely develop quickly in the two to three years to come. Disparking the OEM, we will spare no effort to polish our products, in a gesture to provide our customers with better visual enjoyment and higher commercial value.
---
Post time: Jul-09-2019