New highly transparent LED display media technology, with high permeability and ultra-thin features, has many advantages. Here are answers to the five top questions asked about this leading-edge technology.
1. What is a transparent LED display?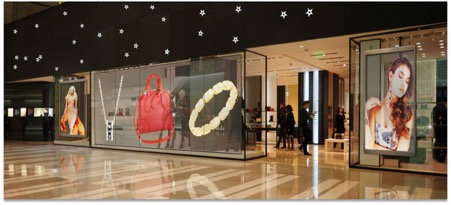 Transparent LED displays are LED screens that allow viewers to enjoy the displays' bright graphics and see through them. Often installed behind glass, they create an attractive facade with bright noticeable content that can be viewed from a great distance while offering 60% to 85% transparency.
Transparent LED displays can play any media, from still images to video. Unlike regular LED displays or traditional paper posters, transparent LED displays do not block light. When installed, e.g., in a storefront window, shoppers maintain visibility from indoors to outdoors and vice versa. This maximizes exposure and enhances interior ambiance with natural light, while the display maintains its luminance and effectiveness. Transparent LED displays create a unique and artistic advertising screen.
Transparent LED displays require very little space. They are lightweight, typically only 10mm wide, and the screen body weight is only 16Kg /m2. Installing transparent LED displays do not negatively affect the building structure, nor do they require extra steel frame structure. They can easily be installed behind glass, which results in lower costs.
Transparent LED displays are easy to maintain and simple to install. Installation is both fast and safe, saving manpower and resources. They do not require a cooling system, required by traditional LED displays, resulting in energy savings of more than 30%.
2. What determines a good quality LED?
The quality of the LEDs used in LED displays plays a significant role in the quality of the displays and how they perform over time. LEDs manufactured by Nationstar are used in all RadiantLED displays. Nationstar LEDs are generally known to thoroughly meet the many required criterium, and this positively sets them apart from other LEDs on the market.
Other LED manufacturers include Kinglight and Silan. Silan LEDs are ~33% weaker than Nichia LEDs, but they cost significantly less. Silan LEDs are capable of running for six years of continuous operation at full white (although running the screen at full white is never done in reality). In contrast to the still very expensive Cree LEDs, Silan LEDs age more evenly and also have less lighting reduction after 10,000 hours. This proves particularly beneficial when exchanging individual pixel cards since the calibration requirement is lower.
Many LED technology advancements remain relatively new and therefore performance results, over five, ten, or more years, either do not exist or are unpublished.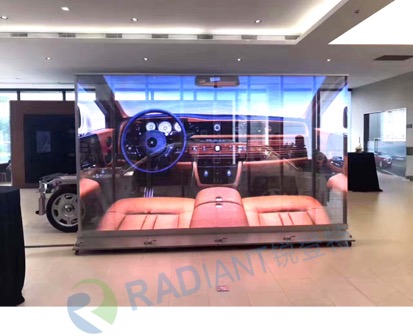 3. How did transparent LED displays evolve?
Although traditional LED displays have contributed to creating bright lights for commercial purposes, they also were noted for contributing to spoiling the scenery of many cities due to their solid dense form and bright panels. Aware of these challenges, city planners have implemented more stringent rules around the use of these traditional cumbersome displays, particularly outdoors. The advents of transparent LED displays not only integrates all the advantages of conventional indoor and outdoor high-definition LED displays, they also maximize city aesthetics.
Typically installed behind glass, transparent LED displays impact surroundings minimally day and night. They allow natural lighting to filter through them while delivering bright, get-noticed content. Additionally, they provide a new form of semi-outdoor advertising that achieves the same, if not better, results.
Transparent LED glass curtains blend well with the accelerated pace of urban construction; they complement the high-end grade of modern popular building materials since they are ultra-thin, boast a no steel structure, are easy to install and maintain, and highly transparent. They are described as fashionable and progressive, creating a modern and dynamic atmosphere, and become a valuable city attraction. Transparent LED displays have won widespread approval in cities around the world.
4. What problems do transparent LED displays solve?
Mitigate space requirement challenges because of their slender footprint
Eliminate the need for unnatural lighting behind displays by allowing natural daylight to filter through (60% to 85%)
Eliminate the problem of having to make standard-sized traditional panels work—transparent LED screens can be customized to fit any architectural space, are highly versatile, and available for indoor and outdoor spaces
Easy to maintain and after-sales service is reliable
Integrate seamlessly into most glass structure locations creating harmony and eliminating the no-fit, bulky feel of traditional signage
Help avoid running out of display space or blocking outside view by paper signs or advertisement
Reduce time and labor to update or renew traditional signs
5. What is the transparent LED display market application potential?
The introduction of transparent LED displays has opened up many new market application opportunities across a broad range of markets, especially in the architectural media field. Modern urban cities boast many million square meters of glass where advertising using transparent LED displays represents a huge potential market, not to mention the opportunity to use this leading-edge technology in landmark buildings, municipal buildings, airports, hotels, banks, and other public venues.
---
Post time: Jun-19-2019