LED display encounters opportunities in the field of e-sports, and the future market prospects are promising
On August 26, 2019, Jakarta, the first e-sports gold medal in the history of the Asian Games was picked by the Chinese team. Although this gold medal is not included in the official game, it has attracted much attention.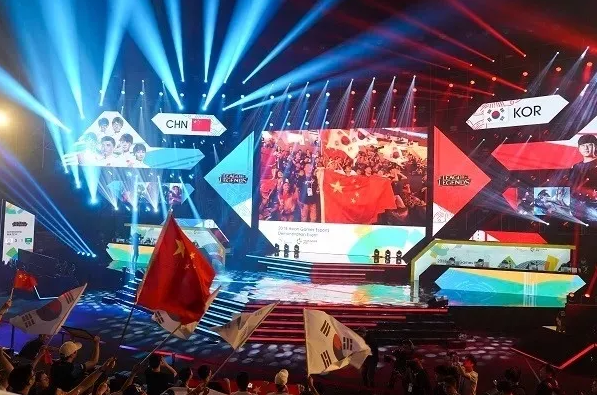 Jakarta Asian Games e-sports performance project League of Legends match scene
In 2022, at the Asian Games held in Hangzhou, e-sports will become an official event. The International Olympic Committee has also begun to incorporate e-sports into the Olympic Games.
No matter which country in the world today, there are a huge number of video game enthusiasts, and the number of people paying attention to e-sports matches far exceeds that of any traditional sports.
E-sports in full swing
According to the Gamma Data "2018 E-sports Industry Report", China's e-sports industry has entered a rapid growth track, and the market size in 2018 will exceed 88 billion yuan. The number of e-sports users has reached 260 million, accounting for almost 20% of the country's total population. This huge number also means that the e-sports market has great potential in the future.
In another VSPN "E-Sports Research Report", it is shown that people who are willing to watch e-sports events account for 61% of the total users. The average weekly watching is 1.4 times and the duration is 1.2 hours. 45% of e-sports league audiences are willing to spend money for the league, spending an average of 209 yuan per year. The report shows that the excitement and attraction of offline events to spectators far exceeds the effects that can be achieved by online broadcasting.
Just as there are tennis courts for tennis matches and swimming pools for swimming games, e-sports should also have a professional venue that meets its own characteristics-e-sports venues. At present, China has nearly a thousand e-sports stadiums in name. However, there are very few venues that meet the requirements of professional competitions. It seems that there are nearly a thousand companies, and most of them do not meet the standards in terms of construction scale and service standards.
Currently, offline competitions of e-sports events are mostly carried out in traditional stadiums, studios, Internet cafes/Internet cafes, auditoriums, cinemas, university campuses and other places. There are two reasons for this phenomenon. One is the lack of professional venues. On the other hand, the rules of professionalism are still being constantly improved.
The few e-sports venues have caused a serious imbalance between supply and demand. Game manufacturers will choose traditional stadiums to hold their events, but the audience is faced with the embarrassment that a ticket is hard to find. A professional e-sports venue can connect and meet the needs of both the organizer and the audience to a large extent.
Therefore, the hot e-sports market has spawned a new demand-professional e-sports venues, located at the end of this huge industrial chain, known as the "last mile".
The crowded "last mile"
China's e-sports industry, valued at nearly 100 billion yuan, has aroused many concerns. Especially the construction of e-sports venues is an asset-heavy game, attracting large sums of money. On this "last mile", the national team, venture capital, Internet giants, and even Internet cafe operators were crowded.
Huati E-sports is the only company engaged in e-sports-related businesses under the Chinese Olympic Committee holding company-Huati Group. The first in the country to put forward the "China Sports Stadium 1110 Cooperation Plan", will cooperate in the development of 10 China Sports E-sports professional halls, 100 standard halls, 1,000 basic halls, forming an e-sports stadium-e-sports complex-e-sports The multi-level business layout of the competitive commercial cluster-e-sports industrial park-e-sports characteristic town.
Alliance E-sports, a start-up company invested by Lianzhong International, Sports Window and Kongwang.com, is considered a pioneer in the field of e-sports venues that specialize in e-sports. Starting from the first home appliance competition venue on Gongti West Road in Beijing in 2015-Wangyu E-sports, Alliance E-sports has 8 venues around the world, covering China, North America, and Europe. Alliance E-sports establishes its own-brand events based on the layout of global e-sports venue hubs, and conducts the production and distribution of e-sports peripheral programs.
Since Suning Tesco released its e-sports strategy in 2015, with its cloud stores in various regions, it has set up 50 home appliance competition experience zones in 35 cities across the country. As a venue for competitions and player training, it can also provide power for competitions. The person usually experiences it.
The wealthy Tencent, after having a lot of enviable game resources, announced at its 2017 brand conference that it will cooperate with Super Competition and Mutual Entertainment to deploy no less than 10 new pan-entertainment e-sports across the country in the next five years. Industrial Park.
National e-sports towns including Mengzhou in Henan, Zhongxian in Chongqing, Taicang in Jiangsu, Wuhu in Anhui, and Hangzhou in Zhejiang are also burdened by the local government's "eager expectations". Taking Chongqing Zhongxian as an example, according to its plan, 10 billion will be invested within three years to build a 3.2 square kilometer "e-sports characteristic town" and create a "player experience paradise • e-sports industry holy land".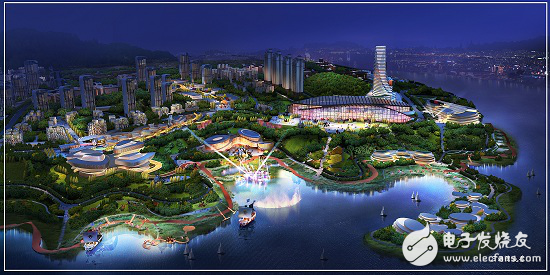 Rendering of E-you Bay, Zhongxian E-sports Town
Overall rendering of Zhongxian E-sports Town
 In 2018, the e-sports industry is recognized as the first year of e-sports, and 2019 will be an explosive year for e-sports.
Application of LED display in E-sports arena
Any large-scale professional e-sports arena is inseparable from the LED display.
In June 2017, the China Sports Stadium Association issued the first e-sports stadium construction standard-"e-sports stadium construction standard". In this standard, the e-sports venues are divided into four levels: A, B, C, and D, and clearly stipulates the location, functional zoning, and software and hardware systems of the e-sports arena.
In this standard, it is clearly required that e-sports venues above Class C must be equipped with LED displays. The viewing screen "should have at least one main screen, and multiple auxiliary screens should be set up to ensure that spectators from all angles can watch comfortably under normal conditions."
In order to create the vivid and gorgeous effect of the game scene, a large number of professional e-sports halls are also equipped with stage installations. And the stage effect created by the LED display screen will do my part to become the protagonist of the scene demonstration on the stage.
Others, such as 3D display and VR interactive display, are also the highlight of e-sports venues. In these two areas, LED display screens can also do their best.
The vigorous rise and development of the e-sports industry has driven the popularity of offline events. The construction boom of e-sports stadiums in the 'last mile' presents attractive market opportunities and broad market prospects for large-screen LED displays.
---
Post time: Oct-27-2021