Application of Radiant transparent LED screen in jewelry store
Application of Radiant transparent LED screen in jewelry store
With the development of economy and the improvement of people's living standards, people's food, clothing, housing and transportation have gradually risen to a new level. Fashion has become the main theme, luxury has become the darling, and retail stores of various brands of clothing, makeup and jewelry are all over the corners of every city, and people's lives are colorful.
This is an era of material desires, an era of oversupply, fierce competition for various commodities, competition between brands, competition in sales models, competition in advertising, etc., which makes people dazzling. In fact, sometimes there are business opportunities in the competition, because new contradictions stimulate new demands. The competition of luxury goods has spread from the competition in the product itself to the competition in the advertising field. Merchants seek various advertising models to attract consumers' attention and stimulate consumption purchasing power. The transparent LED display emerges as the times require.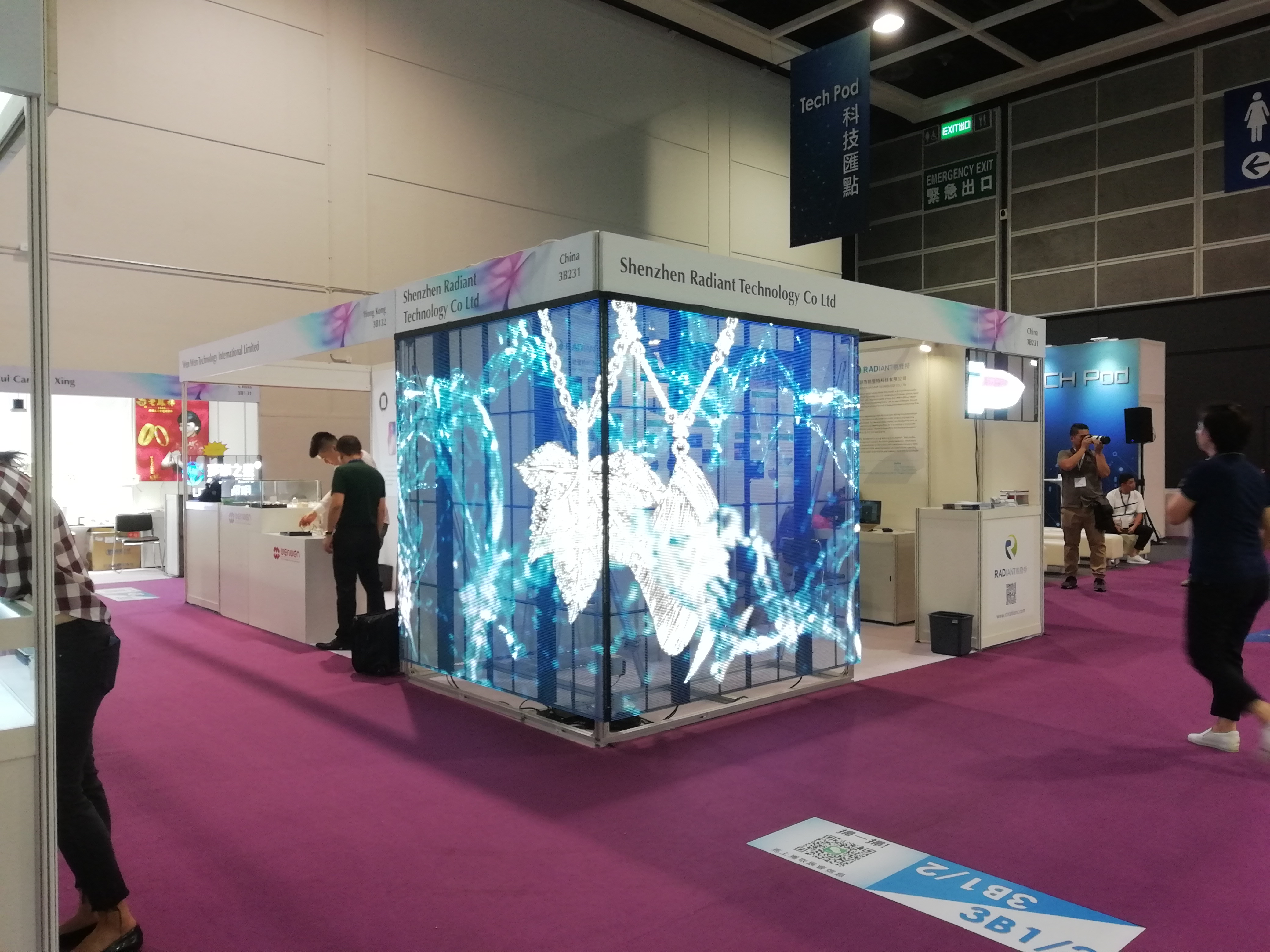 First of all, luxury goods themselves are profiteering products with high prices, and LED displays are also high-cost electronic products. Therefore, the two are relatively matched in terms of value. Secondly, the transparent LED screen has high transparency and can be perfectly combined with the glass wall of the retail store, which will not block the sight inside and outside the store, and can dynamically display product advertisements. Based on the high-end characteristics of luxury stores, Radiant transparent LED display screen also has the characteristics of perfect design, convenient installation and maintenance, and high quality, so it is recognized and selected by the high-end market, especially the luxury market.
From 2018 to 2019, our company had participated in the Hong Kong International Jewellery Fair for many times. At the exhibition, our transparent LED display had attracted a large number of exhibitors and visitors to come to learn that this cross-industry product is very new and attractive to them. And our company was also the only glass LED display exhibitor at the exhibition.
Before the COVID-19 outbreak, Radiant had promoted its transparent LED display to some world luxury brands and received recognition and interest from customers, such as Cartier, Bulgari, Van Cleef & Arpels, Rolex, Breitling, Swarovski, Laofengxiang, etc. . Our products were also successfully installed in Laofengxiang jewelry store.
Although the epidemic has severely hit the global retail market, many luxury brands have closed thousands of offline stores, but this does not seriously affect the development of the transparent LED screen market. There are too many stores, and if every store installs LED displays, it will obviously be a huge expense. However, closing some poorly managed stores can save costs and invest in some better-run stores, promoting the brand to develop better.
Of course, with the gradual disappearance of the epidemic and the liberalization of epidemic control in many countries, the development of new retail has once again appeared in our daily lives, and transparent LED displays can shine again.
---
Post time: Jun-17-2022